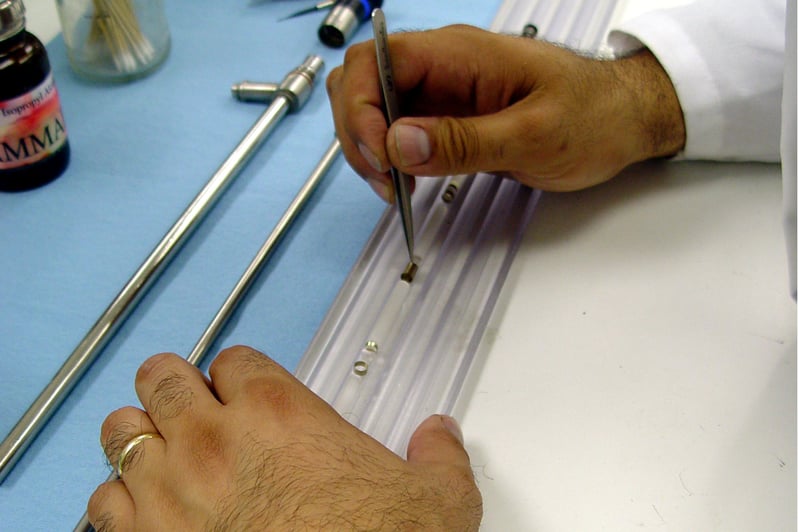 It may not sound like much fun to keep track of your endoscope repair company, but since you're handing over your repsonisibility, you're obliged to have some sort of oversight.
Next to that, it could be really beneficial to your bottomline and overall quality.
In this article, we will give you some guidelines to start with auditing your supplier.
Getting Started With Tracking Your Scopes
In the rush of the sterilization department, it's all too simple to just use a scope, clean it, use it again, and send it out if it breaks. Keeping track of the repairs you've made and evaluating repairs on a regular basis can reveal a lot about your scope, your repair company and your own department.
1. Functional Test checklist
To begin, think about making a single functional testing page for each scope. We have a template for you
here
.
On it you will find the scope's make, model, and serial number.
As needed, record if it needs repairs on the other side, as well as the cost and who did them.
Take a look at the entries over time. Do you notice any trends?
If you have a recurring repair, you should consider the following:
- Is there a larger issue that isn't being addressed in this scope?

- Is this recurring error due to workers mishandling the equipment?
- Do we need to instruct newer employees on how to properly care for and handle your scopes?
- Is there anything else a doctor has to know about how to keep his scope performing well?
- Is your scope repair firm performing the work correctly?
- Is your scope simply becoming old and it's time to retire?
Ensure you're looking at repairs for all scopes, not just the one you're working on. It's possible that patterns of use, or mis-use, will arise. Of course, if you don't want to go through this hassle, why not try an
off the shelf solution?
2. Finding Patterns
Examine repair patterns to evaluate if you have an unusually high rate of fluid invasion. One of the most expensive, time-consuming, and harmful service issues is fluid invasion. It's also one of the easiest to avoid. There are
automated testing systems
that find particles in your endoscopes.
Review proper leak-testing techniques with your personnel, as well as normal handling and cleaning protocols, if you're having recurring difficulties with fluid invasion. There are other lesser-known leak-testing techniques and items to look for (such as the age of your water/sealing caps (max. 18 months) that can help.
Inquire with your scope repair firm or manufacturer for assistance in these areas.
3. Checking usage
Another thing to keep an eye on is how often you use a scope. The more a scope is used (and cleaned), the faster it deteriorates and becomes susceptible to breaking.

Also, keep in mind that a teaching facility may make your endoscopes more prone to breakdowns, because of the handlers' inexperience.
4. Auditing Your Scope Repair Company
At least once a year, schedule an audit visit and check adherance to standard, norms and regulatory compliance.
It is often assumed that standards and norms are law and that the specification in the standards and norms must be met literally. This is not quite the case. To comply with the law, there is a hierarchy of laws, regulations and standards.
Make sure that you have qualified your repair company and that standards and norms that were in place then, are still practiced.
Also make sure that your repair company understands and
takes responsibility for the MDR 2017/745
.
CE-marking will not be valid if your repair company does not adhere to the Regulation.
Also see if your Terms and Conditions haven't changed.

Price per repair and turnaround time are two factors to keep an eye on when it comes to your scope repair company's performance. Minor fixes should only take a day or two to complete.
90% of your repairs should be minor. Major repairs should account for the rest.
With a few exceptions, most significant repairs should take no more than a week to complete.
There are automated systems available in the market to decrease the turnaround time for you and your repair company. More
can be found here.
5. Getting a second opinion
If your repair service is taking longer than expected, or you see that a high percentage of your repairs are "serious" and/or require a total overhaul, you should get a second opinion on your overall scope repair problem and what other vendor options are available.
You should also inquire about how much of the job your repair shop does in-house rather than outsourcing. Is your turnaround being slowed by third-party outsourcing? Unbeknownst to you there is a thriving business in more difficult repairs. Your endoscope may have traveled continents for a repair!
6. Evaluate Your Repair Company's turnaround time
Don't forget that these are your scopes and they belong in your hospital, not at the repair company!
If they can't solve it right away, they should explain why and provide you with options.
Keep track of your repair expenditures as well.
7. Check pricing
Don't be scared to ask other scope repair companies how much similar repairs would cost. They are here to help! A price list will be provided by many.
Some companies even feature a pricing list, or at least a portion of one, on their websites.
Compare pricing from different sellers. Check to see if the costs you're paying are reasonable.
You may even decide that you need to talk to your present repair provider about fees, or you might decide to look for another repair supplier. You may eventually decide that the expense of constantly fixing your scope (and the related downtime) is more than the cost of purchasing a new scope. This is especially true with older scopes.
8. Checking Your Cleaning Process
Also, keep an eye on the cleaning process. Some techniques are more deteriorating on equipment than others.
Furthermore, switching from one approach to another may cause issues that were before undetectable. Your repair shops and manufacturers should be able to assist you in this regard.
Make sure that when you change chemicals, they are not detrimental to your quality and is accepted by your manufacturer. Check before you act.
To summarize, keep an eye on the following repair aspects and assess them appropriately:
1. Age of the scope
2. Frequency of use of scope
3. Cleaning method
4. Type of repair
5. Frequency of repair
6. Cost of repair
7. Turnaround time for repair
Contact us for Help With Scope Testing
Running a sterilization department can be tough, but devoting some time and effort to these reports and analyses can result in better scope maintenance, less downtime, reduced repair costs, better budget adherence, better staff training, and a better understanding of when new equipment is needed.
Remember that you can always seek assistance from your scope repair business or manufacturer.
You can contact us via info@dovideqmedical.com for more information about endoscope testing, reporting and management.