8 best practices for sterilization department managers who want to improve the cleaning and quality process of rigid endoscopes.
Central sterilization departments are experiencing pressure to change.
In order to improve, they must enhance processes, increase patient safety whilst keeping costs under control when dealing with endoscopes.
Not an easy task! Luckily, there are several opportunities for quick wins that lower costs and improves overall quality. Here are the tips to increase the quality of your CSSD: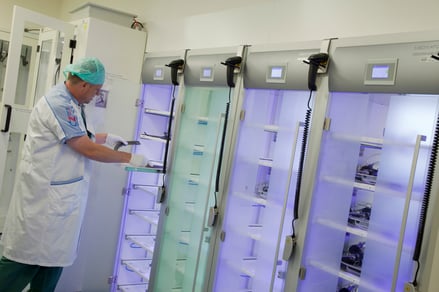 No backsies
Make sure there's only a one-way-flow of endoscopes between dirty returns to clean dispatch areas to prevent cross contamination.
Best practice is that there should be a physical separation of dirty and clean procedures and areas, each with their own detailed procedures.
If a single room procedure is used, the room must be well designed to ensure a good and safe flow is well managed. It's difficult, but it's possible.
Trained staff makes less mistakes
Staff training is best implemented using a competency framework, but let's not forget that it needs to be revalidated annually!
Training should always include:
- awareness of the channel configuration of all endoscopes
- manual cleaning procedures
- updated knowledge on washer disinfectors (EWD) and available irrigation adaptors
- knowledge of post cleaning processes
- Knowledge on how to optically test endoscopes. A good checklist can be found here. You can also use an automated system that checks this independently
All knowledge must be cross-checked on a regular basis. Make sure enough colleagues are trained to do so and that there's room to check on eachother. Peer review is best!
Press record every single time
Even though the risk of transmitting infection by endoscopy is small, you should have a process for tracking equipment used during each procedure in the event that a patient is subsequently suspected of having, or being at high risk for, a transmissible disease.
Serial numbers of all endoscopes and accessories must be recorded for each patient examined, and endoscopes must be properly tracked through their decontamination processes.
Each endoscope must have a Unique Device Identification.
This is important for any future contact tracing when possible endoscopic transmission of disease is being investigated.
Make sure that you can demonstrate that an endoscope has been through a full reprocessing cycle prior to each patient use. A record should be kept of the serial number of each endoscope used on each patient. A
n easy way to do this is through scanning the UDI provided on every modern endoscope. There are scanners made specifically for this process which will work with any built-for-purpose-software.
Wet 'n Dry
Due to the increase in demand for endoscopy, many sterilization departments have had to expand with already limited space, with the result that decontamination facilities have been moved to a location away from the endoscopy unit. Used endoscopes and their internal channels must be kept moist during transfer to decontamination facilities, and it is best practice that endoscopes are placed in an EWD within 3 hours of patient use.
In addition, there must be electronic tracking of endoscopes between units and remote facilities.
Keep it together
Detachable components should be kept with their corresponding endoscope, forming a unique set. Let's keep it simple by keeping it together!
In that light, don't forget to test your light cables. This can be done automatically within 20 seconds.
100% Anti-virus - Stop the spread of deadly bacteria by mail
To stop the spread of hard-to-treat infections, hospitals are sending weekly emails to hospital leaders that include an update on the number of cases and a ranking of unit performance as well as an action plan.
Robots: Humans need not apply
Did you now that 80% of optical failures in endoscopes are never registered by humans? There are robots that can take over the arduous task of optically testing endoscopes. No investments required.
Avoid hardware failures by auditing your endoscope repair company
Smart central sterilization department manager audit every single endoscope that comes in. Trust is good, but control is better.
Do you have more best practices? Let us know! Contact us here.